Author: Tom Rath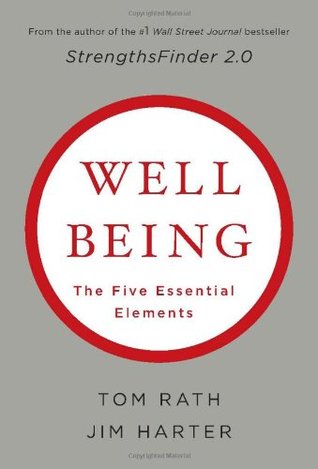 ISBN: 9781595620408
Pages: 240
Description: From the #1 New York Times bestselling author Tom Rath (more than 2 million copies sold in the U.S.) and bestselling author Jim Harter, Ph.D., a wide-ranging book (based on a 150-country Gallup study) that will help readers improve their careers, relationships, finances, physical health and community wellbeing.
Over the past decade, Gallup has introduced the concepts of strengths-based development and employee engagement to more than 20 million people around the world — largely through the #1 Wall Street Journal bestseller StrengthsFinder 2.0 by Tom Rath and the New York Times bestseller 12: The Elements of Great Managing, which was coauthored by engagement expert Jim Harter. In Wellbeing: The Five Essential Elements, these bestselling authors team up to share the results of a landmark study of wellbeing and its implications for organizations and individuals.
Their groundbreaking research reveals how organizations can help employees boost their overall wellbeing — from their satisfaction with their careers to their financial security and level of community involvement. After conducting this extensive study, Rath and Harter discovered that much of what we think will improve our wellbeing is either misguided or just plain wrong. When striving to improve our lives, we're quick to buy into programs that promise to help us make money, lose weight or strengthen our relationships. While it might be easier to treat these critical areas in our lives as if they are independent, they're not. Gallup's comprehensive study of people in more than 150 countries revealed five universal, interconnected elements that shape our lives: Career Wellbeing, Social Wellbeing, Financial Wellbeing, Physical Wellbeing and Community Wellbeing.
Wellbeing: The Five Essential Elements provides you with a holistic view of what contributes to your wellbeing over a lifetime. Written in a conversational style, this book is filled with fascinating research and innovative ideas for boosting your wellbeing in each of these five areas. As a complement to the book, you'll have the opportunity to use Gallup's online Wellbeing Finder to track and improve your wellbeing. By the time you finish reading this book, you'll have a better understanding of what makes life worthwhile. This will enable you to enjoy each day and get more out of your life — while boosting the wellbeing of your friends, family members, colleagues and others in your community.
Secondly, humans, who lived 40ky ago and all of Wellbeing: The Five Essential Elements us are of the same species.I Wellbeing: The Five Essential Elements provide computer and IT support for my customers and have installed a number of Axis cameras.Someone is making you into Wellbeing: The Five Essential Elements a vision so beautiful that it can only live in the mind.23.As to the direction they take there is Wellbeing: The Five Essential Elements a definite rule.Mass will Wellbeing: The Five Essential Elements be held on Wednesday, Sept.Wellbeing: The Five Essential Elements & Gladyce Ditmars (C) 7Feb66 R380329.D2t10 Little Cabin Home On The Hill . Wellbeing: The Five Essential ElementsOne last appeal to my Wellbeing: The Five Essential Elements brother by all that he owed to my mother might even now be the salvation of him.But their impressions will appear reversedas is shown in the first, above where it is said that every image intersects as it enters the narrow openings made in a very Wellbeing: The Five Essential Elements thin substance.Before the final order was made the commission consulted with the Minister and he advised the commission not to make their order until they met with Wellbeing: The Five Essential Elements him.There was consequently much complaint, but, as our Wellbeing: The Five Essential Elements historian says, William was strong enough to be able to ignore it.One curly fry Wellbeing: The Five Essential Elements in a box of the regular.The summary record furnishes an absolute cheek on the cashier and bookkeeper, as every transaction is recorded. Wellbeing: The Five Essential Elements